Welcome! Join us on the Diaspora Day! Belgrade – Serbia 2017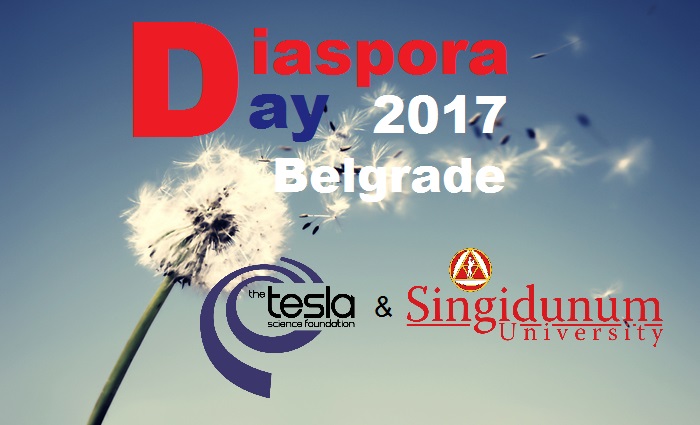 Welcome!
Join us on the Diaspora Day!
Participate in projects, panels, roundtables, exhibitions and competitions
The Diaspora Day is a program established a year ago by reputable organizations from the Diaspora and Serbian academic community, and extended to Serbian communities in the region.
The Diaspora Day is attended by representatives of the motherland and the Diaspora, students and pupils form the Diaspora, the region and Serbia, organizations from the Diaspora, ambassadors, as well as highest-ranking representatives of universities in Serbia.
Save the date!
July 6, 2017
– Choose your topic –
Topics for the Diaspora Day in 2017:
Connecting with the Diaspora: cooperation and development; realization of diasporas potentials
The Diaspora, youth and entrepreneurship in Serbia; Young diasporas return and engagement
Pensions and other incomes of the Diaspora in Serbia
Serbian language and Diaspora
Nikola Tesla as the unifier of the Serbian national corpus.
TeslaTalk, Studenica Foundation and other projects supported and developed by the Diaspora Days will be presented during the Diaspora Days. The presentations will be followed by the closing ceremony and the cocktail.
Organizers: Singidunum University and Tesla Science Foundation USA and Serbia, with the support of Studenica Foundation USA, Serb National Federation USA, Serbian cultural and educational society "Prosvjeta" Austria, Organization of Serbian Students Abroad, Serbian Heritage Foundation ("Matica iseljenika") and others who have supported our program.
Speakers:
Plenary session
Milovan Stanišić, president of Singidunum University
Majkl Đorđević, president of Studenica Foundation USA
Nikola Lončar, president of Tesla Science Foundation