NIKOLA TESLA CONFERENCE 2019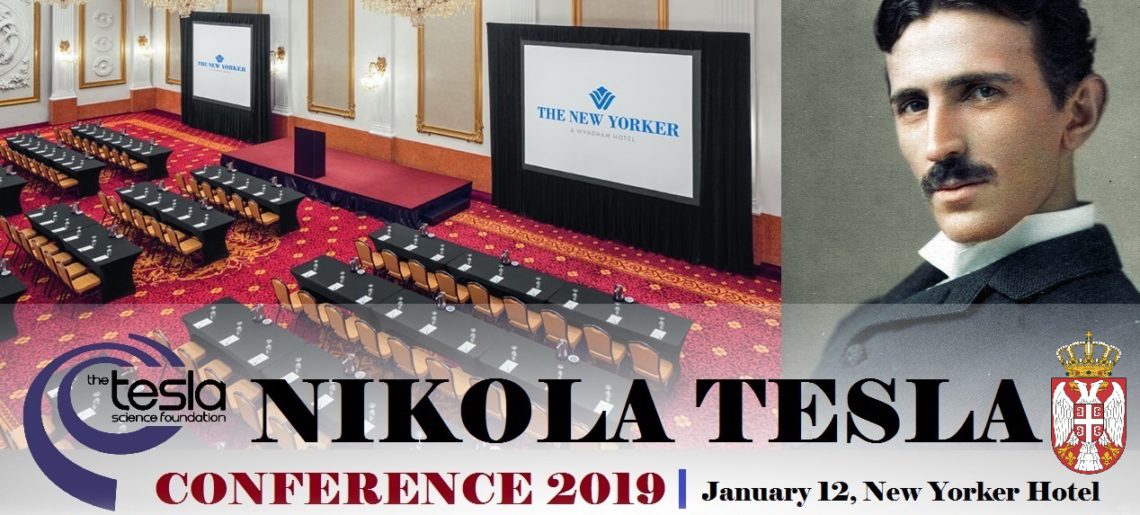 ---
MORNING SESSION

 
09:00 am  REGISTRATION
10:00 am  Keynote Address – Mirjana Živković, Consul General of The Republic of Serbia
10:15 am  TSF Progress Report & Short-Term Plan – Milan Kostić, Executive Director, TSF
10:30 am  Nikola Tesla The Movie – Matthew Scarboro, Co-Founder, EZImaginations
10:45 am  Nikola Tesla and Humanity – Pavel Sfera, Poet, Aspiring Novelist, Humanitarian
11:00 am  Youth and Nikola Tesla – Aleksej Milić, 13 year old Guest, Serbia
11:08 am  Delphine Tesla Music Intro and Overview – Delphine Tesla, Musician 
11:12 am  Nikola Tesla as Inspiration – Achilleas Kentonis, Innovation Mentor – Multidisciplinary Artist and Scientist, Cyprus
11:15 am  BREAK
11:30 am  Tesla & Humanity's Missing Paradigm Shift – Mark Passio, Radio Talk Show Host 
11:45 am  "Tesla – Past, Present and Future" – Milovan Matić, Author
12:00 pm  Starting a Tesla Club – Ashley Redfearn, Director of Education, TSF
12:15 pm  Tesla Symphony Program – Alejandro Sanchez Navarro, Composer and Conductor, Mexico
12:30 pm LUNCH AND NETWORKING with Video Content
AFTERNOON SESSION
02:00 pm  Miloje Popović, Former Director of XYU Cultural Center in NY
02:15 pm  Nikola Tesla Business Records – Elise Ackerman, Journalist
02:30 pm  Progress Report – Marc Alessi, Executive Director, Tesla Science Center
02:45 pm  Sisatovac Project – Nikola Lonchar, Founder and President, TSF
03:00 pm  Sustainable Live House Project – Robert Meyer, President, TSF Arizona
03:15 pm Adventures from the Future – Inspired by Tesla – Helena Bulaja Madunic, Artist and Storyteller
03:30 pm BREAK
04:00 pm  Progress Report – Vic Djurdjevic, President, Nikola Tesla Educational Corp, Canada
04:15 pm  Tesla Productions – Charlotte Brown, Producer, 311 Studio Productions
04:30 pm  Progress Report – Nicholas A Baio, President, TSF New York
04:45 pm  Panel Discussion, Nikola Tesla and Education
                   Moderator: Ashley Redfearn, TSF Director of Education
                   Panel Participants:
                   – Milovan Matić, Author, "Tesla – Past, Present and Future"
                   – Harry Oung, Director of Science, TSF
                   – Brian Yetzer, Art Director, TSF
                   – Mano Divina, Music Director, TSF
                   – Craig Do'Vidio, Director, Tesla TALK.TV, TSF
                   – Dr. John Cambridge, Entomologist
05:30 pm DINNER AND NETWORKING with Video Content
EVENING SESSION
07:00 pm  Poet of Electricity – James Jaeger, Film Producer, Tesla TALK.TV, TSF
07:10 pm  Niko Tesla Film –  Tesla Ambassadors, Australia
07:15 pm  Tesla and Pupin: Film Reconciliation is Key – Sava Sajko, Producent
07:30 pm  Tesla Symphony Program – Alejandro Sanchez Navarro, Composer and Conductor
08:00 pm  Tesla's People – Zeljko Mirkovic, Film Producer, Tesla TALK.TV, TSF
08:15 pm  Why NIKOLA TESLA is a Mind from the FUTURE – Helena Bulaja Madunic, Artist and Storyteller
08:45 pm  Award Presentation
Lana Asanin, Program Presenter
Kevin Wood, Director of Events and PR Manager
Milica N. Savic, Director of Art & Technology
Art Exhibition:
Mariana Moreno, Mexico
Bogdan Miscević
Sandra Nikoletić
Family Lončar Private Collection
Foundation Laza Kostic – Tesla – Pupin
Students of Tacony Academy Charter School, Philadelphia
Reconciliation and friendship inspired by Tesla Pupin Tower in Serbia
---
Organized and supported by Tesla Science Foundation and
Consulate General of The Republic of Serbia, New York
PROGRAM ORGANIZER RESERVES RIGHTS TO PROGRAM CHANGES
---
The Tesla Science Foundation is a 501 (c)(3) nonprofit organization dedicated to promoting the life, legacy and scientific innovations of Nikola Tesla. Having successfully hosted numerous lectures, seminars, forums – to include the annual Energy Independence Conference and Tesla Memorial Conference – our Foundation is the most active Tesla related organization in the United States today. Through our dedicated efforts and generous support from our contributors, the Tesla Science Foundation network of distinguished scientists, engineers, academics, artists, students and other Tesla enthusiasts worldwide continues to grow. Visionary and scientist Nikola Tesla is included in the UNESCO Memory of the World register. © 2018 by The Tesla Science Foundation. All rights reserved.